Post by Ser Duncan on Apr 28, 2016 16:38:21 GMT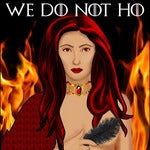 Beric does say that each time Thoros brings him back there is less of himself. So it seems it's harder and harder to remain whole either the more times one is reanimated or the amount of time that's pasted since death occurred. I say we should look to the skinchangers that are living their second lives in their animals. Hagon tells Varamyr that as time passes, there is less of the man and more of the animal. Orell was still in his eagle, but not all of him remained there. The strongest emotion Varamyr got from Orell was his anger and his hate, little else of normal human consciousness and that was in the space of what? half a year? Orell had recently died when Varamyr took over the bird.
The other half of this is the belief in where people go when they die. In Westeros they believe the spirit inhabits all of nature, so it becomes one with the land. But in Essos, the Dothraki believe they ride the heavens, so the spirit goes up to the sky, not locked with the land itself. Of course, each religion will also have its beliefs, but what if we took a leaf out of Terry Pratchett's books, and say the spirit does whatever the person believes it should do. In other words, if you believe you're going to an ice cold hell, that's where you go. In this way, the beliefs of the longest inhabitants of Westeros, the Singers and FM, will become the dominant afterlife, making the land itself full of spirits of the departed. This could explain why there are resurrections in Westeros and not in other places.