Post by Some Pig No Doubt on Mar 7, 2016 3:52:22 GMT
(Note: this first part about the Black Armor is a repost that some of you have seen before, but the second part is new.)
PART 1. THE ARMOR
So, one of the cool things that's come out of this trip through the Marvel wormhole is the realization that, in addition to all the, *ahem*, striking similarities in written/divulged plot, there are some things that bubble to the surface that have me going "Will he? Hmm..I wonder. Is he…?" with regard to GRRM's future unwritten/undisclosed plot. I see certain shared elements between ASOIAF and Marvel, but the difference is that this element is/becomes a big deal in the Marvel world but isn't so much in the ASOIAF world….or at least not yet.
The following is a great example. I stumbled upon this while plugging through some Origin Arc-anery and thought, "Well, shit. I see the series counterpart; is this particular Marvel arc predictive of something to come that we've all ignored?"
Note: Although this is related to the incomplete/unpublished Origin Arc and Modern Arc , it's only peripherally so – so thankfully you won't really need to understand the background of those two arcs in order to digest this one.
Also, about the characters – as noted in all threads thus far, we don't always have a 1:1 correlation between book and comic players. Dr. Strange can be associated with both Bran and Jon, for example. The converse is also true, and that's really apparent when we get into the Modern Arc and all the really well-known characters – somebody like Jaime might actually display traits/storylines of a couple of Marvel guys. So, when you read below, you'll probably figure out what the associations are, but keep in mind these not be the ONLY associations…more will come later.
OK, so I want to talk about armor. Specifically, Rhaegar Targaryen's trademark
black
armor with the
rubies
and ultra-recognizable dragon helm. As we know, this is the armor he wore when he won the Tourney at Harrenhal, and is the armor he would die in at the Trident. Much has been speculated about Rhaegar and each of these events – was it really him wearing the armor? Was he glamored? Did he really die at the Trident? How was he cremated "as is custom for fallen Targaryens" if he died in the Riverlands, on enemy territory, after losing to the rebels? Fishy, George, fishy.

And…
WHAT HAPPENED TO THE DAMN ARMOR?
(Burning question for no one but me, really.)
Supposedly the rubies went into the Trident... but where's the rest of the suit? There is still some Targaryen armor lining some hall in the Red Keep, but no mention of whether Rhaegar's very specific (and very caved-in) plate is among the rows.
That being said, this is a Marvel thread, so let's talk about:
THE DESTROYER.
Debuting in the Silver Age of Comic Books, the Destroyer is featured in over four decades of Marvel continuity. It's not a person - it is a suit of Asgardian armor, animated by magic, which first appears in
Journey into Mystery #118 (Jul. 1965)
and was created by Stan Lee and Jack Kirby.
A Class 100+ weapon, the enchanted armor created by Odin/Zeus/Brahma (aka "The Skyfathers"; don't overlook the significance of the trinity here) that contains portions of the gods' energies was intended to be the force capable of doing battle with the
Celestials
in the upcoming Fourth Host (visit by Celestials to Earth, to judge the quality of humankind).
*Side note: the armor was to be supplemented by the
Odinsword
, Odin's magical weapon that goes by the name of/is foretold to bring about
Ragnarok
.
The gods created the armor after the Third Host, during which a contingent of all major gods "challenged the Celestials' right to interfere in Earth's affairs. The outcome of that encounter was that all of the major races of gods swore to forego their active involvement in the destiny of mankind."
(Note again the magic number 3 here – a third appearance by some wacky deity-beings (whom I will cover very thoroughly in Origin Arc; they will not be detailed right now) from eons ago that will come again to test the fate of man for a final time.)
Destroyer is made of an unknown metal superior to adamantium (think Wolverine's claws) and even
Uru
, the magical metal of Asgard.
(Sidebar: Fun description of Uru, the magical metal that is used for many famous weapons the Marvelverse, in particular Thor's hammer Mjolnir, Odin's spear Gungnir, and Captain Amercia's reconstructed shield:
Uru is non-sparking and is a highly immalleable metal, often requiring extreme methods to forge it (for example, the heart of a star, or an enchanted forge). Albeit very difficult to forge, weapons and items built in Uru, especially the enchanted ones, are resilient to most forms of damage. With a natural affinity to magic, Uru is not only easy to enchant, but also absorbs magic like a sponge, redirecting it and enhancing the natural attributes of his wielder. The symbiotic relationship between Uru and its wielder works both ways: a mystical user, such as Thor, can lend to the Uru in his weapon his own strength, in the process making the metal stronger and more resilient.
Sound like another metal we know?
)
Without going into a bunch of complex comic plot, let's suffice it to say that over the years, the Destroyer armor was subject to various attempts at possession/manipulation by Loki (Asgardian trickster god, for those living under a rock) to use against his half-brother Thor. Loki would find the armor and con someone into imbuing it with their soul or whatever, and then try to set the Destroyer loose on Thor. In a couple of instances Thor himself transferred his consciousness into the Destroyer in order to wrench it away from its host or do battle with it in some weird way, I can't really follow the exact intent and mechanism of it. Takeaway here is that the armor is magic, is associated with a magical race of people, and is used primarily in an ongoing grudge match between two sworn rivals.
First Really Interesting Thing here is the list of powers associated with The Destroyer. I think you'll see where I'm going with this.
"The Destroyer armor possesses numerous superhuman capabilities but only if the armor is inhabited by the spirit of a sentient being. While some of the powers might vary, depending upon the spirit inhabiting the armor, they are primarily the same for any."
Superhuman Strength: vast immeasurable power of unknown limit.
Superhuman Durability: invulnerable to most all forms of physical damage (except that inflicted by more powerful cosmic entities) such as bullets, pressure, falls, temperature, and (my favorite) "tremendously powerful impact forces."
Superhuman Speed
Superhuman Stamina: it is not subject to physical fatigue.

Superhuman Agility and Reflexes: Natural agility, balance, and bodily coordination are enhanced to levels that are far beyond natural physical limits; the armor's reflexes are similarly heightened and are far superior to those possessed by the finest human athlete.
So, I imagine that if someone were wearing this special armor in, say, a tournament, it's not a big stretch to imagine that "no lance could touch him."

Also, the armor is also capable of manipulating the molecular structure of most materials and matter itself for a variety of purposes, including transmutation – probably a useful skill when you have a giant pointed stick or a warhammer coming toward you.
Now, despite this armor being a juggernaut of battle and destruction, it has downsides – namely that the base kill-kill-kill personality of the armor can eventually take over the mind of the host if they wear it too long. "After a time, it becomes nearly impossible for an inhabiting spirit to maintain control over the armor while attempting to use it for non-violent purposes in non-combat situations. In time, the armor itself will dominate the inhabiting life force. "
In other words, you can
warg the armor
, but there are consequences for staying. Unless you are a being of serious magical mojo, and probably an Asgardian, because guys like Odin, Thor, and Loki are the only ones who can control the damn thing.
"The Destroyer is not a suit of armor that can be physically worn or disassembled. A life force must be projected into the armor in order to animate it which leaves the possessor's body in a catatonic state. The Destroyer is linked to the body of the individual inside which is why the person does not die due to lack of life force, but if the person's essence is put back inside its body by a powerful spell directed at the person, the Destroyer will become inanimate once again. By the same token, if the person's body is killed, the life force will leave the Destroyer and revert it back to its lifeless state. Normally, a person has to be close to the Destroyer and a willing participant to have their life essence transferred into it, but a person's essence can also be transferred if that person is not mentally guarded for such a transfer. Odin or Loki, however, can make the transferals over great distances due to their proficiency with magic."
The second Really Interesting Thing is what happens to the suit when it's not being warged by someone trying to destroy Thor: it gets
hidden
. Usually by Odin, who doesn't want it falling into the wrong hands.
Odin squirrels it away in the
underground Temple of Darkness
for a time, until Loki finds it and animates it the first time. After it is recovered it goes back into the Temple, which Odin then collapses, seemingly burying the Destroyer in the rubble. Wash, rinse, repeat in another encounter – this time Loki gets his trickster hands on it and uses it in another plot with some other folks.
**
He is foiled in the end and Odin takes the armor into custody again.
**This plot covers Thor Vol 1 145-153, and has some majorly, majorly pertinent elements in it – I will get to this momentarily in Part 2. It ties in with the armor and I think you'll dig it.
For interest and visual association, here are some images of the Destroyer armor, modern and vintage – despite what you may remember from the movie Thor a few years back, it takes on a few distinctive changes when actually worn by Thor.
Surely you're seeing my point here. If not, note the imagery of the black plate, the winged helm, the scarlet cloak, flames limming the helm, etc. Not hard to see the similarities here, right?
I'd also like to point out that in the pics of Thor wearing the black armor, he's holding Mjolnir – his hammer made of the magical metal Uru described upthread. Allow me to toss your thought process over to another description:
Jon was armored in black ice, but his blade burned red in his fist.
Black armor, red blade. Jon carries a blade made out of the magical metal Valyrian steel. Just sayin.'
Brief aside: For clarity, re: the winged helm - I used that more as an example of shape....from artist depiction and text description, it's not very clear what Rhaegar's helm actually looked like. A couple of renderings show it as a helm with dragon wings and a single head, others have it as three heads sprouting from the top, etc. I think it's fair to say that it had some ornament that gave it the appearance of being "winged", if it wasn't outright winged.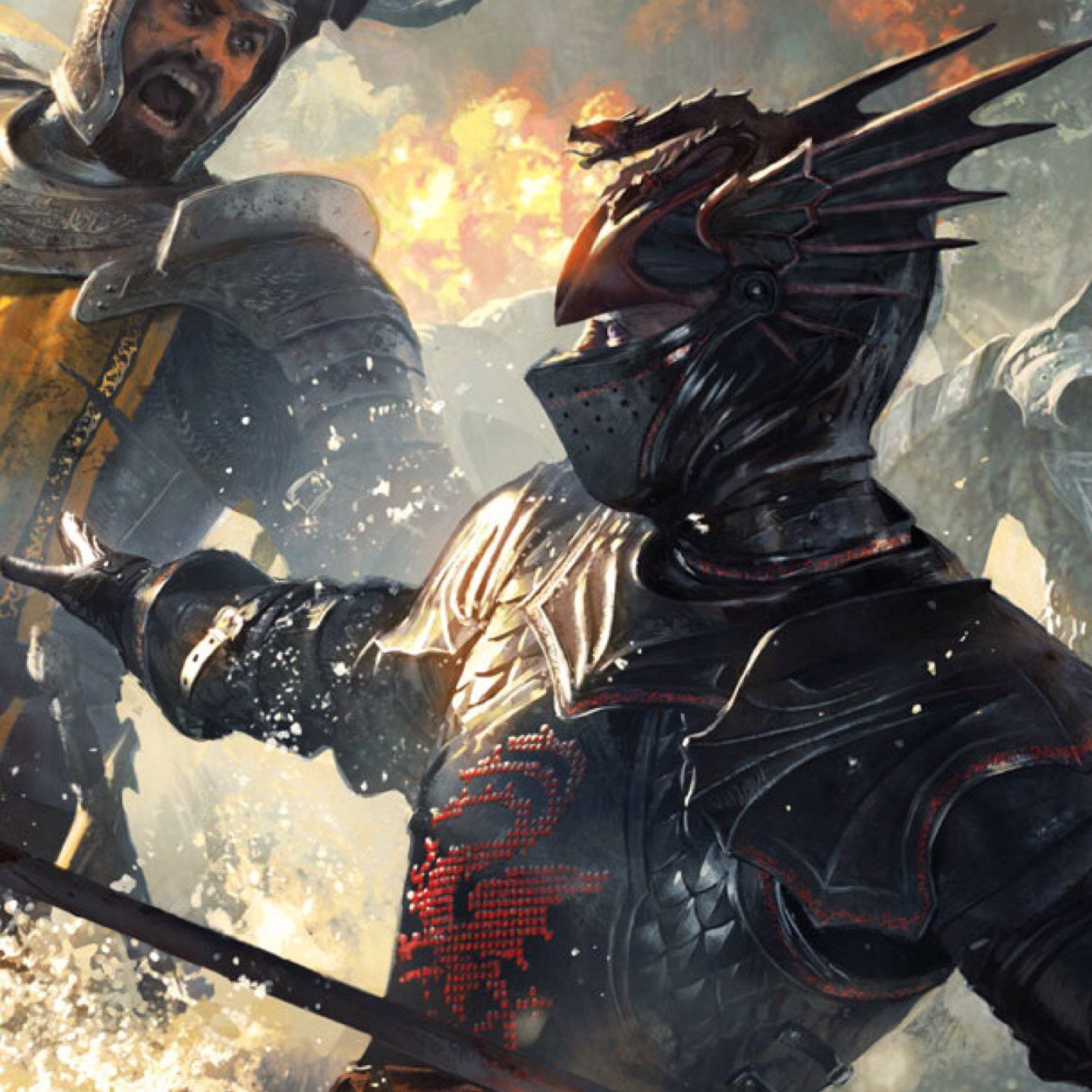 tl;dr: the helm may not have been winged like Thor's, but it was probably similar in structure/appearance to Thor's while he was animating the armor.
Now, to return to Rhaegar's black dragon armor.
This suit is attributed only to Rhaegar – it's not said to be a hand-me-down from other Targaryen royalty. Obviously this was custom work – but by who? Tobho Mott doesn't lay claim to this particular suit when boasting to Ned of his fine work:

The Knight of Flowers bought all his armor here, Tobho boasted, and many high lords, the ones who knew fine steel, and even Lord Renly, the king's own brother. Perhaps the Hand had seen Lord Renly's new armor, the green plate with the golden antlers? AGOT 27

However, given that Rhaegar supposedly kidnapped Ned's sister, I can see how that would be a touchy mention, so OK. But let's look again at Mott's place of business:
The man they wanted was all the way at the top of the hill, in a huge house of timber and plaster whose upper stories loomed over the narrow street. The double doors showed a hunting scene carved in ebony and weirwood. A pair of stone knights stood sentry at the entrance, armored in fanciful suits of polished red steel that transformed them into griffin and unicorn.
Black and white doors. Stone knights in the armor of mythical creatures - chimeras, to boot. Part one creature, part another. And of course Tobho Mott is known not only for his beautiful armor, but his ability to work Valyrian Steel. Coincidence?
So if Tobho Mott, a Qohorik master armorer who knows the secrets and spells for working Valyrian Steel, fashioned this black dragon armor for Rhaegar, did he enchant it in some way? Or, is this armor actually much older, and given to him by someone else?
What happened to the armor after Rhaegar died? It was so fine and distinctive, I can't imagine it being ignored or destroyed. Was it destroyed with his body, or……in the spirit of the Destroyer armor, was it reclaimed and hidden?
There's been much hoo-rah about what secret lies in the Stark crypts – wedding cloaks, harps, wills, long-form birth certificates, etc. But, could the crypts – an underground Temple of Darkness – house a different sort of secret?
Crazy, yes….but no more crazy than the idea that Rhaegar isn't really dead, which I'll get to next.