Post by Some Pig No Doubt on Apr 12, 2016 17:24:38 GMT
Yeah yeah, right right...I haven't posted the Modern Arc yet (one day, one day), but I wanted to get a jumpstart on some characters that will factor in to it. Besides, I already have these written up.

The ASOIAF character parallels should be fairly obvious, and in fact I think half the fun of this project is experiencing the dawning realization of who these folks correspond to as you read along, but I'll tell you up front so it's clear.
So, speaking of "dawning", let's begin with the counterpart to
Ser Arthur Dayne
, the White Knight of the Kingsguard who wields the famous sword Dawn.
THE BLACK KNIGHT (Avengers 47 1967)

Dane
(yes, that's right)
Whitman
is best known as the modern-day Black Knight, continuing a legacy that began in medieval England.
Black Knight, as opposed to a White Knight of the Kingsguard, obviously.
The first Black Knight, Whitman's ancestor
Sir Percy of Scandia
, lived during the reign of King Arthur. Percy's murder at the hand of his nemesis Mordred began a string of successors, all of them Percy's descendants. Dane Whitman inherited Castle Garrett and traveled to England. He encountered the spirit of Sir Percy of Scandia there and was given the
Ebony Blade
-
a blade carved from a meteor (!!!)
and enchanted by the wizard Merlin.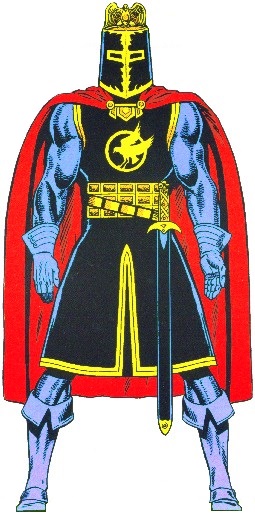 Ser Percival of Scandia
And Merlin, because why not.
Ok, so a sword made from a meteor is passed down through descendants of one family. Nope, never heard that before! From the Wiki: "Dawn is the ancestral greatsword of House Dayne, whose wielder is always given the title Sword of the Morning. Dawn is largely the reason for House Dayne's fame. Its origins are lost to legend, but it seems likely that the Daynes have carried it for thousands of years."
So what's the history of the Ebony Blade? Let's see:
Ebony Blade (Black Knight #1 May, 1955)
The famous wizard Merlin - who has a different origin story in Marvel than the Arthurian legend version, mind you - discovered a strange black ore called the
Starstone
(

) at what was apparently the site of a fallen meteor. Merlin bartered one of his magic books (an
Iron-Bound
book of spells, I might add - we've seen one of these before in Great Arc) for the Starstone, and from that proceeded to craft the Ebony Blade...needless to say, infusing it with his magic, since we're talking about Merlin here.
Merlin also created three more items from the Starstone: a chalice ("drink from the cup of..."), a shield (anyone remember my discussion from
HERE
about Sif, the
Shieldmaiden
of Asgard? And how I pegged her as Ashara Dayne?), and a staff. TAKE NOTE, PEOPLE: to enchant these items with the right magic, our beloved wizard had to forge them in the POOL OF BLOOD.

Merlin gave Ser Percy of Scandia his choice of item from the mix, and Ser Percy chose the Ebony Blade. Ser Percy as the
first
Black Knight was a good guy with a great story; I think I will cover him in a separate post. However, he was a knight and did knightly things, such as kill a lot of folks with the Ebony Blade - from blood it came, and to blood it shall return. The sword quite literally
drinks the blood
of those slain by it.
Note: Ser Percy was a fairly righteous fella and in addition to "the spirit of Percy has appeared before his descendants whenever a worthy successor for the mantle of the Black Knight was needed", he did prevent the Ebony Blade from ever falling into the wrong hands by nixing unworthy candidates. However, this does not mean that unworthy candidates didn't TRY to obtain it. Nathan Garrett, uncle to Dane Whitman, assumed the mantle of Black Knight and had a fake costume and everything, but never actually possessed the Ebony Blade. He still became quite infamous as the "bad" Black Knight, carrying a power lance instead of the famous sword and riding a genetically mutated horse with wings named Elendil. (Never, ever say that fantasy authors of all walks of life don't blatantly rip off each other.)
I like this picture of Nuncle Nate....dig the colors of the armor.
Garrett was one baaaaad dude; thanks to his notoriety the name "Black Knight" became a title of somewhat ill repute. As Garrett lay dying after a battle with Iron Man (who I should forewarn you is going to be a jumbled compilation of multiple ASOIAF
Starks
, go figure, har har), though, he recanted his evil ways to his nephew Dane Whitman and granted him rights and titles to Garret Castle (the ancestral home of Ser Percy) and the mantle of Black Knight. Ser Percy approved in spirit, Dane Whitman withdrew the Ebony Blade from its meteoric docking station, and thus became the NEW AND IMPROVED Black Knight fighting for all that is right and good.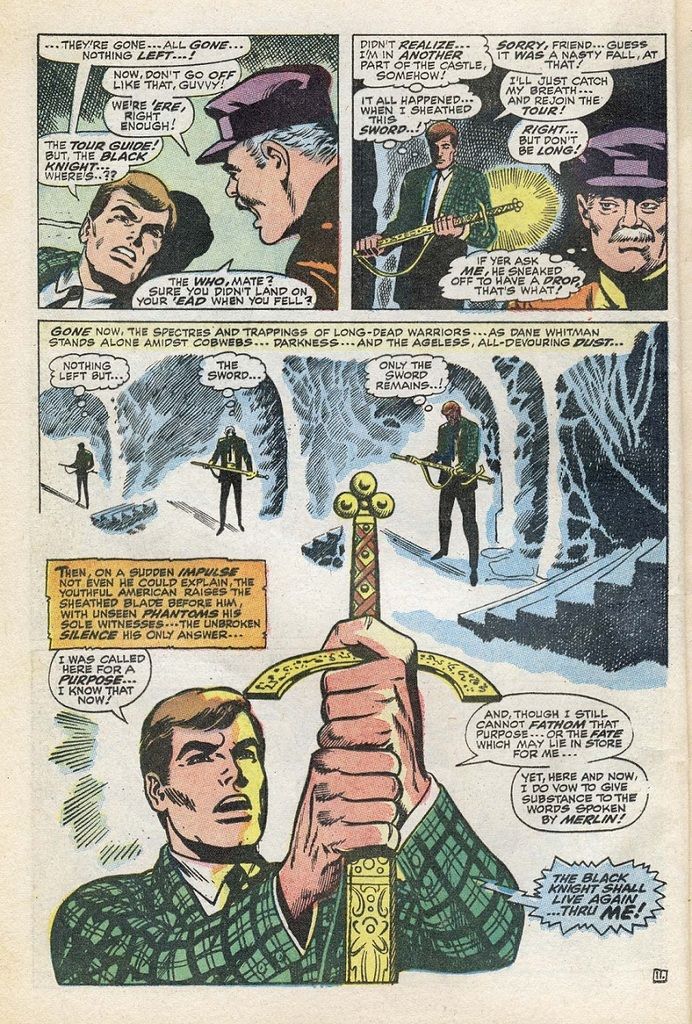 For the record, I brought Nathan Garrett, the "bad" Black Knight, into this conversation because we do still have a couple of missing paternal Daynes in the series.....Arthur/Ashara/Allyria's father, and Edric Dayne's father. These two brothers remain unnamed and unknown. That being said, Ned Dayne's father is the ELDER of the brothers and would have been Lord of Starfall, yet Arthur, the
younger
brother, was named Sword of the Morning. Not sure if this indicates that 1) the titles of Lord and SoM pass through separate lines as a tradition, or 2) there was some sort of dishonor in the elder line of Dayne that caused a "skip". Interesting consideration, anyway.
I should note here that the Ebony Blade wasn't the only weapon made from the Starstone. Recall that one of the four items the Starstone begat was an ebony staff. After Ser Percy hand-picked the sword, Merlin supposedly destroyed the other three items. Oh, but wait! The staff wasn't fully destroyed! And someone waiting in the wings saw this, and took advantage for their own nefarious purposes!! Enter
MORDRED
, bastard son of King Arthur Pendragon and his half-sister Morgause (again, long sordid backstory that I will go into along with Ser Percy) and his sorceress aunt
MORGAN LE FAY
!!!
Marvel Mordred. Note the bat sigil, please. No seriously, THE BAT.

And here's Morgan le Fay, with HER PET FREAKING RAVEN.
Mordred and auntie Morgan
rescue the staff and decide to make their own magical plaything out of it: the
Obsidian
or
Ebony Dagger
. Yep, that's right. A black dagger likewise infused with magic,
the only weapon known to be able to slay the wielder of the Ebony Blade
.
I wonder how, exactly, Howland Reed managed to take down Arthur Dayne at the TOJ? Crannog net? Frog to the face? Or, something else a bit ...darker?
Moving on.
As noted above, the Ebony Blade is cursed with the souls of all those slain by Sir Percy. The blade is indestructible and able to cut through almost any material. It can trap dead souls and absorb or deflect all kinds of energies and mystical power.
Again, the Wiki: "It is said to be made from metal forged from the heart of a fallen star. The blade is as pale as milkglass, looking like no Valyrian blade, yet sharing all of the properties, being incredibly strong and sharp."
Additionally, the Blade bonded to its wielder in such a way that the wielder can summon it back to himself or herself using a mystical ceremony if it is ever lost, even if it was in a different time period.
The Blade formerly rendered its wielder invulnerable to everything except another weapon carved from the same meteor
.
I think that underlined portion may be pertinent to Dawn - not revealed in the series to date, of course, but I will not be surprised in the least if Dawn has a foil out there somewhere. Perhaps not carved from the same meteor, but one that possesses opposing magic.
Dane Whitman eventually purged the Blade of its curse at Doctor Strange's behest by plunging it into the Brazier of Truth while Strange bathed them both in magic fire. However, the curse returned, and Dane eventually gave the Blade up.
Bathed in magic fire generated by a dude that has been pegged as the comic equivalent of Bran/Jon. One of whom can travel through time via a treenet. Hmmm. I was particularly intrigued by this because for a while now I've wondered if widespread fire was a thing at the TOJ: Ned failing to return the bones of his fellow northerners, being able to pull down the tower easily, describing Martin Cassel as having "perished will all the rest" - not killed, not died, not slain...."perished". The use of the word "perished" makes me think of large disasters that take lives en masse, like earthquakes...or fire.
He drove it deep into the same meteor from which it was forged, now residing in his castle. Only another deemed worthy would be able to withdraw it
.
From the Wiki: "Unlike other houses who have ancestral swords, House Dayne does not pass its sword from lord to lord. Only a knight of House Dayne who is worthy can wield it."
"Dawn remains at Starfall, until another Sword of the Morning shall arise. "
- George R. R. Martin
Da fuq, George.
But before we go, let's not forget Dane Whitman's other impressive talents, including:
Excellent swordsman and hand to hand combatant - obvious
Expert horseman - obvious
Strong strategist and tactician - remember Jaime and Barristan recalling Arthur's camp setups and whatnot?
Magic senses - not sure about this, but ironically I also have Arthur
sharing traits and storylines with Heimdall of Asgard,
who does indeed possess magic senses
Wields the Sword of Light and Shield of Night


DA FUQ, GEORGE.