Post by min on May 14, 2016 20:33:49 GMT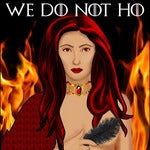 I'm starting to think Lyanna never even had a child, that she was found with a corrupted sword wound like Drogo. Ned could have found Lyanna dying before he went to war, and then by the time he got to the tower of joy he saves Brandon's son from being sacrificed in a blood ritual meant to bring Rhaegar back to life. And since Dany survived the tent ritual and Rhaego died, Jon is the one that survived and Ashara died.
GRRM really covered his bases. LOL. I'm still open to this scenario. In which case Lemore would be Haldon Half-maester's daughter Malora Hightower, the Mad Maid. Why she needs to disguise herself is a good question. And this ties Jorah Mormont in with his marriage to Lynesse.
A Feast for Crows

After the ironborn attacked the Reach, Lord Leyton was reported to be locked in the Hightower consulting books of spells with the Mad Maid.[1]
It would explain the cup bypassing Ned. But why on earth would Brandon Sr. rape Ashara and destroy the good will of Ser Arthur when they are entertaining a marriage contract? Did he think he could force the issue? Why would she go to Ned and not her brother?
I've had a crackpot going for a while that Ramsey Bolton is Brandon's son by Lady Barbry and that this is pregnant woman that Bran sees in front of the weirwood asking for a son to give her revenge. She foists her newborn of on the Miller's Daughter knowing that Roose raped her and then this girl shows up at Ramsey's door looking for money claiming that Ramsey is his son. Roose never even questions it. He just remembers tht he raped her. What if the false Stark isn't a fake?
And although Arya says that she and Jon are the only siblings who take after their father; and Cersei says she recognizes Ned in Jon; family resemblances well. How much did Ned and Brandon Sr look alike? Saying that someone is your 'blood' is a very general statement meaning if you are family you are the same blood.
ETA; Given Ramsey's history off removing his half-brothers....