Post by Ser Duncan on Oct 17, 2016 1:13:06 GMT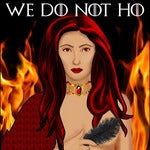 If Elliot is Tyrell, why did Angela call him Tyrell on the phone, and indicate that she wanted to be there when "he" woke up...implying Elliot.

Do we need spoilers? Is everyone up to date?
I think we should stick with the spoilers just in case someone else wants to watch.

I thought about that, Angela talking with Tyrell, and I think it could work like this. Remember when Mr Robot was shooting Elliot in the head all the time? Elliot said the first time he thought he'd died. Then he woke up. Combine that with all the stuff Mr Robot was hiding from Elliot, the codes, the talking with others etc. So when he blanks out at the end, Tyrell takes over. Mr Robot is seen fading as Elliot bleeds because he's no longer needed, Elliot now knows everything Mr R was trying to hide from him, including the fact that anyone trying to stop phase 2 would be shot. So I think we've come full circle with Tyrell now taking over where Mr R can't because Elliot knows all about him. I mean if he can have an entire relationship with a figment of his imagination once, then create an entire alternate reality to cope with being in jail, what's so strange about Elliot being Tyrell too? Plus, we need to keep in mind that the last two episodes are really one story, a story that starts with Elliot going into a lucid dream in order to find out what Mr R's been up to and what happened to Tyrell. In other words he switches roles with Mr R. Mr R is in control while Elliot observes. Remember last series Mr R had no idea that Darlene was Elliot's sister, so why would he have any idea if Tyrell is another personality? And Angela knows Elliot's got split personalities, she's shown us this series she'll do whatever it takes to get where she needs to be. I can see her playing along with the Tyrell persona if it helps her achieve her ends too.