Post by Melifeather on Nov 30, 2016 18:10:29 GMT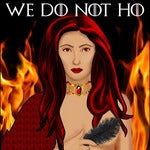 I was wondering if Howland had a hand in any of this considering his experience on the Isle of Faces, his prayer and involvement with the Knight of the Laughing Tree, and his credit that Ned gave him for saving him from death by Dayne.
I don't know. I think the abduction story is a hoax for all the reasons that have been stated including justification for Robert's Rebellion itself. I don't think Lyanna was ever at the Tower of Joy. Lyanna is only associated with it in Ned's dreams. Elements of dreams stand in for other things troubling or familiar to the dreamer and are mixed up with elements of events.
I do find it interesting that Martin places a weeping woman statue at the Eyrie. An Eyrie is an eagle's nest and the eagle is associated with Zeus and is his personal symbol along with the thunderbolt, bull, and oak tree. Thor is also associated with eagles, thunderbolts etc. The Eyrie is Robert Baratheon's 'nest' for a time. The Eyrie might also be considered a kind of crow's nest perched on top of the Giant's Lance.
I've always wondered about the symbolism of the constuction of the gates, way castles etc and I wonder if we are being told something.
The garden of the Eyrie includes a woman's statue, located at its center. It depicts a weeping woman, carved in veined white marble. Catelyn Tully felt certain that it was a statue of Alyssa.[1]

The duel between Ser Vardis Egen and Bronn takes place by the statue. Early in the duel, Bronn hides behind the statue of the weeping woman. A failed lunge by Ser Vardis resulted in his sword striking the marble thigh of "Alyssa".

Later, an off-balance Bronn gets hold of the "weeping woman" to avoid falling to the ground. A wounded Ser Vardis chooses the moment to attack. Bronn is able to avoid the strike. As a result the sword of Egen strikes the elbow of the "weeping woman" and breaks. Bronn then pushes the back of the statue, breaking its torso. The heavy piece of marble falls on Ser Vardis and traps him beneath it. Allowing Bronn to easily kill the incapacitated knight.[1]
Is it possible that Lyanna went to the Eyrie after Harrenhall? Why travel all the way back North and South again for Brandon's wedding? Did Robert take advantage of Lyanna at the Eyrie symbolized by the struggle and the broken torso of the weeping woman taking a wound in the torso or womb?
Consider the approach to the Eyrie
the Bloody Gate: loss of virginity
the Moon Gate: female reproductive cycle
the Snow Gate: conception
Robert's deathbed conversation with Ned is also interesting. He's drugged, his mind is wandering through past and present. His thoughts are on seeing Lyanna:
"Damn you, Robert," Ned said when they were alone. His leg was throbbing so badly he was almost blind with pain. Or perhaps it was grief that fogged his eyes. He lowered himself to the bed, beside his friend. "Why do you always have to be so headstrong?"

"Ah, fuck you, Ned," the king said hoarsely. "I killed the bastard, didn't I?" A lock of matted black hair fell across his eyes as he glared up at Ned. "Ought to do the same for you. Can't leave a man to hunt in peace. Ser Robar found me. Gregor's head. Ugly thought. Never told the Hound. Let Cersei surprise him." His laugh turned into a grunt as a spasm of pain hit him. "Gods have mercy," he muttered, swallowing his agony. "The girl. Daenerys. Only a child, you were right … that's why, the girl … the gods sent the boar … sent to punish me …" The king coughed, bringing up blood. "Wrong, it was wrong, I … only a girl … Varys, Littlefinger, even my brother … worthless … no one to tell me no but you, Ned … only you …" He lifted his hand, the gesture pained and feeble. "Paper and ink. There, on the table. Write what I tell you."

On the surface, Robert's grief seems to be about Danaerys; but I question whether this is a darker secret involving Lyanna. With nobody at the Eyrie to tell him no.
The question of divine intervention is interesting. If Ned was supposed to die and this was a green dream of Howland's; the life that paid for death might be Lyanna's since Ned is still god's instrument. Ned also wonders why the gods fill men with lust.
Lyanna's pregnancy may have been as 'ordained' as Bran's fall from the tower.
I do like the symbolism of the statue and what happened to it, however I'm still stuck on my inversions theory, so since Catelyn Stark took Tyrion Lannister hostage and brought him to her sister in the Vale, I would expect Kevan or Jaime Lannister to take Lyanna Stark hostage and bring her to his brother/father somewhere in the Westerlands. Since Ashara and Lyanna's fates are intertwined it was Ashara that actually ended up at the Eyrie. Also, Ned seemed determined that Arya be taught to fight with a sword, so it seems apparent to me that Lyanna was actually injured by a sword. Theon's dream of Lyanna included blood spatter on her gown, and Little Myrcella who I believe is Lyanna's inversion suffered a sword gash across her face and lost an ear.
IMO Lyanna was saved from being killed by her kidnappers by Arthur Dayne who was perhaps helping Ashara. It may be that the three of them came across Robert and Robert offers to take Lyanna to Storms End while Arthur continues with Ashara to the Vale.
I still think Robert was part of the kidnapping plot, but his true identity was concealed under armor designed to look like Rhaegar's, so Lyanna wouldn't have known he was involved, and if she was raped she would have thought it was Rhaegar. By the time Ned gets to Storms End Lyanna had already been moved to the tower of joy. Robert concealed her whereabouts from Ned and sent Lannister men to bring her to the tower of joy where she is found by Ned after the sack. She would be near death and too weak to explain much, just to beg him to bring her body back home. Even if she could explain anything she could have still been under the assumption that her kidnappers brought her there.