Post by Some Pig No Doubt on Sept 3, 2017 2:48:56 GMT
In what is probably a futile attempt to tie a few topics, threads, and thoughts clanging around in my head together, I want to dive into one of the most important and most heretical segments of my Marvel research - the arc that nudges up against RLJ …or rather, NOT RLJ, to be more apt. This plotline is the one that drove me to turn this Marvel distraction into a full-fledged bona-fide project, and convinced me beyond all shadow of a doubt that GRRM is recycling stories from the beloved action comics of his youth. Like everyone else, I'm eagerly awaiting TWOW – not just for the pleasure of getting what may very well be the last book in this series, but also for hints that I'm on the right track with this Marvel direction and not just wasting gobs of internet time reading about Silver Age superheroes when I could be acting like a responsible and productive parent to my kids or watching cat videos on YouTube.
In addition, the further I delve into some of these crazy theories of mine and the more I pull on some of these threads that I encounter along the way, the more things begin to coalesce into a somewhat cohesive narrative – one that could certainly be fully and spectacularly WRONG, of course, but a narrative nonetheless. This particular one actually ties into the crackpottery of
the Fisherman's Daughter
and the forthcoming Sisterhood of Trees, and amazingly enough resolves some lingering timeline issues that I've had (well, that everybody reading ASOIAF has had, really).
So, hop on the crazy train with me now for this short but intense ride. Although the parallels for this arc will be primarily in plot and not character, there are a few noteworthy individual correlations that I want to introduce.
Let's begin with trees. Specifically, intelligent alien ones.
The COTATI
The
Cotati
(Avengers 133 1975)
are an ancient race of peaceful once-humanoid tree-beings from the planet Hala in the Pama star system (Pama being the name of the sun). They evolved approximately 20 million years ago, and coexisted (albeit separately/in different areas) on Hala with the humanlike but barbaric
Kree (Fantastic Four 65 1967)
. (I have so much to say about the Kree, including the genetic engineering experiments that they were subjected to that led into splitting of their race, but that's another thread.) For the record, the Kree look almost fully & typically human, the only difference being that they have blue skin.
At the time of their lives on Hala, the Cotati were more or less Ent-like: long tree-ish bodies with branches for limbs (har) that allowed slow ambulatory movement. They possessed a humanoid head with eyes and mouth that sat atop their long trunklike torsos. In other words, an Ent.

Or Groot, if you're so inclined (although Groot is a different unrelated race, just so you know –
I AM NOT GROOT
).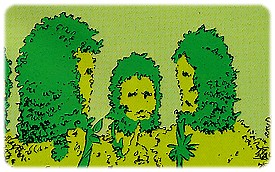 However, the Cotati's most unique quality wasn't a physical characteristic but an ability –
they were highly sentient, and also telepathic
. Their telepathy – along with their plantlike appearance – allowed them to lay low and do their tree thing mostly undetected on the planet by the warrior Kree.
Until the Skrulls came, anyway.
Skrulls
(Fantastic 4 #2 January 1962)
are another race of humanoid aliens, but these guys are reptilian. Green skin, scales, red eyes, pointy ears, sharp teeth, ugly. These are the offshoots of more of the same genetic experiments I mentioned for the Kree – while part of the population got all the good cool genes that turned them beautiful and godlike (like a branch of the Kree), this branch got the serious genetic shaft that left them monstrous and lizardy. Oh, and they are shapeshifters too, able to assume almost any form, and also genderbenders – even though they have sexually dimorphic bodies (males larger than females) they can still change sex at will. Sound vaguely familiar?
The Skrulls were a technologically advanced race, and were primarily a peaceful trading civilization operating out of their home base on planet Skrullos. As traders, they had a motivated interest in being able to travel around the universe, looking for civilization/trade partners/general ways to feel superior, so they put their technology skills to use and developed long-distance space travel to help them jet around looking for other colonies to fold into the Skrull empire in some kind of weird extraterrestrial NAFTA deal – the Skrull would share their technology with the new culture so that the colony could advance and become a worthy "free trade" partner in a show of mutual cooperation. It was during one of these quests that the Skrull encountered the planet Hala.
Let me stop and recap for a second: I'm sure I don't need to explain the tree people, but I want to clarify timeframe in terms of ASOIAF. The Cotati/Kree were hanging out on their home planet in the period I would term "a long damn time ago", roughly one million years in the Marvelverse, so for our purposes this is also going to be "a long damn time ago" in Planetos – most certainly pre-First Men. I haven't identified the correlating ASOIAF human races in question here (the trees are a no brainer) besides thinking they may be GeoDawnians or some other proto-Valyrian colony, but really, it doesn't matter. It's all origin-story soup in the end. The takeaway is that we have two big cultures about to clash, with the trees on the sidelines.
So the Skrull show up on Hala, and discover not one but TWO intelligent races inhabiting the planet. Apparently the Skrull didn't have enough tech to go around, because they decided that sharing their secrets with both Cotati and Kree was just stupid, and instead…they needed to fight for it. Caveat: the fight was with
wits
, not
arms
– the two races were given a building competition. Representatives of both the Kree and the Cotati (17 each, jiving with GRRM's love for prime numbers) would be taken to new locales in different parts of neighboring solar systems and tasked with making those areas habitable. The Skrulls provided supplies and a smidgen of Skrull knowledge, and gave each race one year to do something amazing. At the end of the year, they would be judged on their output and the winning race would receive the benevolent gifts of the Skrull. (Aside: It is unknown whether Jeff "Jiffy Pop" Probst hosted this season of "Survivor: Hala".)
Each race went to a moon to complete their tasks. Yep, two moons in play here, calm down LmL. The Cotati went to one barren moonscape (exact location unknown), and the Kree went to the moon of
Earth 616
– "our" Earth – and settled on the far side of such in a location known as the
Blue Area of the Moon
to complete their tasks.
In the Blue Area, the Kree built a city – an amazing city, the best city, so beautiful. They build unbelievable cities, you know. To mimic the circumstances of Earth in hopes of impressing their potential benefactors, the even included artificial gravity and self-replenishing air in this giant and magnificent city on the barren landscape of the moon.
I am reminded of two things here:
From TWOIAF:
Qarth claims to be the birthplace of civilization. It is the sole surviving city-state established by the Qaathi people, who rose in the grasslands of central Essos — known today as the Dothraki sea — and founded city-states as they moved southeast following defeat in wars against the Sarnori. Ancient Qarth was ruled by kings and queens, the ancestors of the Pureborn.

From ACOK:
Qarth is the greatest city that ever was or ever will be. It is the center of the world, the gate between north and south, the bridge between east and west, ancient beyond memory of man and so magnificent that Saathos the Wise put out his eyes after gazing upon Qarth for the first time, because he knew that all he saw thereafter should look squalid and ugly by comparison.

Qarth also being the place that happens to host a room full of human-looking beings with blue skin, just like the Kree. Qarth furthermore being a city on the outskirts of the Red Waste, which isn't a moon but probably looks a lot like the landscape of one.
There's also this, though:
The next day, dawn broke as they were crossing a cracked and fissured plain of hard red earth. Dany was about to command them to make camp when her outriders came racing back at a gallop. "A city, Khaleesi," they cried. "A city pale as the moon and lovely as a maid. An hour's ride, no more."

How long the city had been deserted she could not know, but the white walls, so beautiful from afar, were cracked and crumbling when seen up close. Inside was a maze of narrow crooked alleys. The buildings pressed close, their facades blank, chalky, windowless. Everything was white, as if the people who lived here had known nothing of color. They rode past heaps of sun-washed rubble where houses had fallen in, and elsewhere saw the faded scars of fire.
With regard to the the thought of dead cities, we should talk about the results of the contest: nutshell, the Kree lost. Even though the Kree had constructed this big beautiful city using rudimentary technology passed to them by the Skrull, the Cotati used their own talents to cultivate a total self-sustaining ecosystem – their once-barren landscape was now a beautiful living 'garden of earthly delights' suitable not only for the Cotati but other species as well. The Skrull were duly impressed by the Cotati's success, judged them to have done more with the tools and time given to them than the Kree, and declared them the winners worthy of joining the Skrull Empire.
The Kree back on Hala were wroth upon learning this outcome.. In revenge, they began to slaughter the peaceful Cotati en masse, with intent on destroying the entire race of 'opposition' through genocide. Knowing their destruction was nigh, the Cotati took two steps to preserve the race: first, they spawned a new generation before dying (think "suckering" trees like aspens and cottonwoods…and weirwoods, from the sound of it); second, they began to transform into normal-looking trees.
In this survival mode, the Cotati triggered a rapid devolution – they sacrificed their mobility and rechanneled that energy into the development of their telepathy; as such, they became "rooted" in place, but their mental powers "branched" into a wide network of interconnected sentience. This led to a change in physical appearance as well:
"As a result, their legs, torso and head merged into a single trunk-like body which was rooted firmly to the ground, and their faces became increasingly less evident until eventually no trace of any facial features remained. Most Cotati now look like simple, unremarkable trees although some have more distinctive appearances which include faces."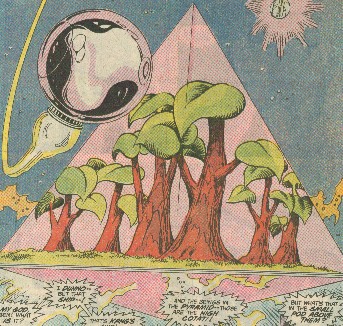 The Cotati were not the only targets of the Kree, however. When the Skrull ambassadors learned that the Kree intended to win the contest by default – in the form of eliminating their competitors – they basically enacted a Trump-worthy travel ban that prohibited the Kree from ever joining their mercantile circle in any world or solar system. The Kree liked this about as much as they liked losing in the first place, and expressed their displeasure by massacring the Skrull delegates and commandeering their spacecraft – along with its superior technology.
This act also led to two significant results: it began the multi-race multi-world
Kree-Skrull war (Avengers #89 - 97 June 1971 - March 1972)
that continued for eons and eventually involved the Avengers, and it also led the Kree to begin performing genetic experimentation of their own on neighboring Earth's early Homo sapiens in order to engineer better Kree and build mutant soldiers to be used against the Skrull.
Ok, time for another recap. To couch this in ASOIAF terms, these prehistoric races went to war. The Kree/Skrull conflict is a very large and complex arc that is deserving of its own thread because IMO it is truly a foundation for the ice/fire conflict in the books, so here I will only note that 1) it happened, and 2) it involved two large races/factions/powers that influence the rest of history. I have some ideas on who these races may have been that I might add into the footnotes, but in summary my *suspicion* is that the Kree equates to one of the early advanced civilization strains, most likely the one that gave rise to the Valyrians, that built some of these greatest cities that ever were or ever will be. Vaes Tolorro, the dead city "pale as the moon" with "faded scars of fire" may be a nod to the Marvel-ous city of the Blue Area of the Moon. Qarth itself with its population of "Milk Men" (white/pale, like the moon and Vaes Tolorro) and its blue-skinned living corpse dignitaries in the House of the Undying may also be homage to the Kree, who are yooge players in the Marvelverse, bigly. The fact that Qarth is also quite important in the books but gets barely a blurb in TWOIAF is also a big red flag to me – I've determined that anything that is repeated/revisited through the series but that is conveniently left out of the World Book is going to be REALLY FRIGGING IMPORTANT.
While the Kree were off starting a war and commencing to build their vast militaristic empire, however, the poor trapped Cotati were still trying their best to not become extinct, relying on their reverse evolution. They got lucky, though, finding aid from an unexpected source – some members of the Kree themselves. A sect of pacifist Kree, dismayed by the turn their society had taken and even more dismayed at the persecution they were receiving at the hands of their fellow Kree who were in favor of war (damn, Stan Lee really is a freaking prophet), went underground to become ninjas. No, seriously – they went into hiding and trained in secret to become masters of both self-defense and the mind…sooo, yeah, ninjas. Over time, they became excellent fighters and meditative gurus.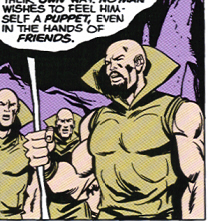 Time passed, war raged, and eventually the members of this sect were contacted by the remaining Cotati. An alliance was forged – the pacifist Kree would become guardians of the now-immobile Cotati, protecting them from the warrior factions with their mad ninjitsu, and in return the Cotati would teach the Kree all the secrets and powers of the mind. After 100 years of this reciprocity, the Kree made this deal both permanent and official and designated themselves the
Priests of Pama (Avengers #123 (1974)
.
Do tell, now!! Guardians of the trees, you don't say!!
Hmmmm, now where I have heard this before...
In the south, the last weirwoods had been cut down or burned out a thousand years ago, except on the Isle of Faces where the green men kept their silent watch.

Due to their superb fighting skills, the Priests finally flew within Kree radar and were recruited to serve at various galactic outposts along with Kree Sentries. As they departed Hala, each Priest smuggled a pair of sapling Cotati out with them to their new respective planets, including Earth-616; they re-homed the Cotati in secret temples on their new planet(s) and resumed their guardianship.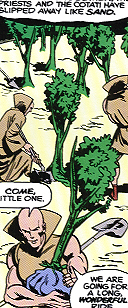 Those Cotati that were relocated to Earth have from time to time involved themselves in the goings-on of various superheroes, including our very own Avengers (the Avengers serving in this arc as a general catch-all for what I term the Rebellion Brat Pack – all those from current story who were teens/young adults during the Rebellion, save the Targaryens)…and it is with the Avengers that they will play a part in THIS tale, and where I will take leave (har) of the Cotati to move on to the next relevant character.

THE SWORDSMAN


Swordsman (Jacques Duquesne) (Avengers Vol.1 #19 August 1965)
has been both a superhero and a villain. I'm eager to see who others come up with as an ASOIAF parallel; I know who I have in mind and why, but I want first reactions from the peanut gallery too.
First, Jacques is one'a them funny-talkin' furriners, growing up in a life of privilege "far away" in a nation across the ocean under French rule at the time. After becoming skilled in the use of swords, knives, and other bladed weaponry, he joined a resistance movement under his alias "Swordsman" (think Errol Flynn here) to liberate his homeland from the French; after successfully rebelling, he learned that the leader of resistance had killed his father. Duquesne abandoned his homeland in disillusionment and hit the road looking for purpose. He didn't find that, but he
did
find a life of gambling, alcohol, and petty crime. Duquesne took up his costume and swordplay once again to join the Carson Carnival of Traveling Wonders; it is during this time that he met a young boy named Clint Barton, the future
Hawkeye (Tales of Suspense #57 September, 1964)
.
(I will interject here and mention that Hawkeye's counterpart is Jaime Lannister. George himself has made this comparison and it is solely based on similarity in character (sarcastic, rather cynical) rather than specific skill set - GRRM even lamented once over the producers of the Marvel movies gave all of Hawkeye's wiseass personality to Tony Stark, because Hawkeye was such a great character on paper and Bob Downey got all the good dialogue in the films. So, Jaime. Comic Hawkeye even looks like Jaime, if you think about it; all blond and square-jawed and handsome. I only bring this up because this Jaime connection is a hat-tip to the identity of Swordsman. IMO.)
So Clint Barton joins the Carnival, and Swordsman takes him under his wing, training him in the use of bladed weapons while Barton discovers his rad archery skills. However, the camaraderie is short-lived, as one day Hawkeye discovers his mentor doing some bad shit he wasn't supposed to be doing - namely cheating their boss. Young Clint tried to do the right thing and tell – someone always tells – and Swordsman tried to kill him but failed. Swordsman escaped, and left the carnival to pursue a life of crime.
Digressing, I *suspect* that the Hawkeye/Swordsman relationship has some echoes in Jaime and Arthur Dayne, and/or some other members of the Kingsguard in the days before Harrenhal, and I further *suspect* that Jaime became very disillusioned with Ser Dayne at some point in the same way that Hawkeye became disillusioned with Swordsman - perhaps even for similar reasons. Also, I have to sideline here for a second just for sheer hell of it: This' life of crime' that Sworsdman entered involved a stint with a group known as the
Lethal Legion (Avengers #78 July 1970)
, a band of villains founded/led by one
Grim Reaper (Avengers #52 May 1968)
– the "
black sheep
" (Marvel's words, not mine) brother of former Avenger
Wonder Man
, aka
Simon
Williams.
The Lethal Legion bears some resemblance to the Kingswood Brotherhood in deed as well as character development. First,
Simon
Toyne
was a member of the KWB. His relationship to
Myles Toyne
of the Golden Company (who was still alive at the time) is unknown; however, recall that Myles Toyne was known as "
Blackheart
". The
Grim Reaper
in popular lore is portrayed as
bare skull
atop a
skeleton
cloaked in black. Myles Toyne was the former
leader
of the Golden Company, and his
golden skull
now sits atop a standard
pole
when they ride to battle, as a sign to foes that
Death is coming
. The Golden Company was founded by Aegor Rivers, half Targaryen great bastard, and
brother
to
Daemon Blackfyre
, the
wonder son
of Aerys IV. Here's a few versions of Wonder Man:
And a couple of Bittersteel, just because.
Lulz! Black or red, a dragon is still a dragon! You guys don't even realize that I work on these Marvel theories just for the pictures. Anyway, interesting that we have the connection with both the Kingswood Brotherhood and the Golden Company between all of these characters in both comic and book series.
Back to it, Swordsman's arc carries on and he goes through a few cycles in which he actually tries to turn over a new leaf and join the Avengers. He gets rejected a time or two, then finally convinces them that he's a good dude and gets to join the team. HOWEVER. But of course he's not a good dude for realz! Of course he's a secret agent of the
Mandarin
– a nefarious supervillan that bears
much
in common with our favorite meaty magister Illyrio Moptais. (Although Mandarin
(Tales of Suspense #50 February 1964)
and the Avengers clash multiple times in the Marvelverse, Mandarin isn't particularly interested in defeating the Avengers for his own sake; really, all he's after is power and world dominion, and these pesky superheroes just get in his way, yanno?) To aid Swordsman in his infiltration plot, he even outfits Swordsman with a nifty special sword, modded out with all kinds of power using a special secret Malukan technology. Remember that Easter Egg about the special gift that Illyrio put in the chest to give to FAegon? (
Malukans
, just so you know, are
an extinct race of large dragon-like reptilian beings known for their special secret tech
. Mandarin's
10 Rings of Power
that he wears on each finger
- lookin' at you, cheesemonger - are of Malukan origin as well, and his life quest is to unlock all the secrets of this race so he can use them in his quest for world domination. Just sayin'.) Swordman's mission for the Mandarin is to kill all the Avengers via a bomb, but at last crucial moment he caved and refused to detonate it, sparing them and betraying the Mandarin.
Despite his semi-heroic change of heart, he nonetheless left the Avengers and again returned to the life of a costumed mercenary. Until...he met
Mantis (Avengers #112 June 1973)
.
I am not going to go into much of Mantis' backstory, because this is one instance in which the ASOIAF parallel character has very little in common with the Marvel version. There are a few indirect similarities but going into the detail required to explain them is probably more trouble than it's worth, so let it suffice to say that 1) Mantis has a childhood connection to the Priests of Pama, and 2) she becomes an Avenger.
Mantis has like zero Kelvin resemblance to Lyanna, just so you know. I mean, really.
It is my opinion that Mantis has a PLOT parallel in Lyanna Stark. Mantis was actually raised in a temple of the Priests of Pama (a backstory I won't get into) mentioned upthread, those guardians of the Cotati. Despite enjoying a childhood of training in defense and mental arts with the Priests, in some weird plot arc twist she has her memory of this erased – the Priests make her literally forget about these warrior indulgences of her girlhood and send her out into the wider world to broaden her horizons/gain life experience and whatnot that they believe will assist her in a future important role.
This is one of the subtle Lyanna connections – she grew up as a wild tomboy in Winterfell playing with tourney swords and whatnot, but then Rickard develops his southron ambitions and, in my personal crackpot headcanon, sends her south to serve in court. No, there is no textual support for this; no, I don't care. Lyanna being at court around the time of her disappearance actually explains so many things in the story and is indirectly supported by tons of evidence, so that's my theory and I'm sticking to it.
All this batshit I'm pouring out right now makes so much more sense if you just go with it.
Mantis goes to the big city to learn the ways of the world, and like most small-town girls that strike out for the bright lights, she ends up working as barmaid/prostitute instead. (And what a coincidence that I just so happen to believe that brothels and prostitutes were a part of Lyanna's story as well, but that's a different thread.) It is via this glamorous life that she meets and befriends Swordsman, drowning himself in drink.
Duquesne fell hard for Mantis, and again personified the old trope that love turns a guy around – she dragged him out of his alcoholic stupor and convinced him to clean up and accompany her in joining the Avengers. Despite Swordsman's past escapades, the team accepted Mantis' character voucher and allowed him to join. Duquesne thrived in the new group: "It appears that he was in search of a cause. His membership in the Avengers and his love of Mantis brought out his best traits, aiding him in overcoming his many character flaws and finding his inner nobility." Awwww. The love of a good woman does it every time!
With Mantis' help, not only did Swordsman find a cause with the Avengers, he sacrificed himself for it – his final mission centered around the love of his life and a conflict with this next guy. Last but certainly not least, let's meet: