Post by Melifeather on Sept 7, 2017 18:21:24 GMT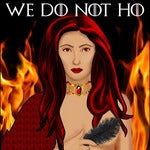 blue roses
of Winterfell are flowers - so if you
pluck
one they
die
. When the Children or other
believers
of the old gods
die
they
join the godhead
. The white walkers and wights, which are undead, have
blue eyes
which seems to connect
ice magic
to their creation, which could be a connection back to the godhead and the act of dying in order to resurrect someone to a
different sort of life
.
Brandon as Coldhands is someone resurrected to a different sort of life
.
Duran, the Lord of Storm's End took the maidenhead of a divine being, Elenei, daughter of the god of the sea and goddess of the wind. Elenei chose to give up her maidenhead and marry Duran, and that choice included giving up her divinity and becoming mortal. Thus the act of relinquishing her maidenhead, her "
blue rose
" led to her
mortality
. The story does not mention a child. I think we're so focused on the child that Bael left that we overlook the rest of the story. Recall that Littlefinger blames the "singer" in Lyssa's death, but we know it wasn't his fault, which makes me wonder if the Bael story isn't a coverup for incest?
Could it be then that the
blue rose
is more closely
associated
with sacrificing
"something"
in order to achieve a different sort of life
? "
Death
" has to be included in order to achieve this different sort of life. Elenei gave up her magical divinity and became a mortal human. She's a parallel inversion to the Other that the 13th Lord Commander saw from atop the Wall, and Duran built walls that could withstand angry gods. Later on we learn the Nights King's followers are sacrificing to the Others. What were they sacrificing? I think we can confidently conclude they were sacrificing human lives, and maybe even children if we're to recall Craster's "I'm a godly man" belief that caused him to sacrifice his sons.
It's the Stark blood that is special for ice magic, and while I acknowledge that it could be meaningful for Rhaegar to want a child with skinchanging ability, it would be a tidy reversal to take an
undead father and a human mother, which is a reversal of Duran and Elenei AND the 13th LC and an Other, you might create a divine being.
Yes I agree that the blue rose never stood for the child. In the story, the blue rose was left as a payment for the Stark daughter who was stolen. It was her pillow that the blue rose was found on.
Basically the Bael tale is a retelling of the tale of Lan the clever. Through deceptive means, the trickster finds a way to substitute his paternal bloodline for the royal paternal bloodline. Looking at it this way, the blue rose can stand for the lost "pure" Stark bloodline, the unbroken paternal line, that was lost when Lord Stark had no sons.
Perhaps, but right now I am leaning towards the blue rose as being symbolic of the sacrifice needed in order to resurrect or produce someone to a different sort of life.
With regards to whichever King that was mentioned in the Wolves of Winterfell novella (that hasn't been released yet), the plot is an ailing Lord with only daughters. No male heir. But somehow one of his daughter is pregnant and I believe the premise is to credit (or blame) a Bael type singer. But, just like when Littlefinger blamed the singer for killing Lyssa, we know that was a lie. So I suspect that the daughter gets pregnant by her father, but then to hide the incest they blame a singer. The Stark incest is what creates a baby with a "different sort of life"...a magic baby. Much like Weasel suspects of Jon being the son of Lyanna and an Other (father). This thread is exploring the possibility that Coldhands is the Other father, because he's also Lyanna's brother Brandon. Think about the description of Coldhands and how he wears a scarf. Now recall how Brandon Stark died. King Aerys had a special strangling machine from Tyrosh that he connected Brandon to and left a sword just out of reach. He strangled himself trying to reach the sword so he could cut his father Rickard loose from his fiery torture.