Post by Some Pig No Doubt on Feb 13, 2016 21:29:31 GMT
Stephen Vincent Strange (First appearance Strange Tales 110 1963):
Master of the Mystic Arts, serving as "Sorcerer Supreme, the primary protector of Earth against magical and mystical threats."
Although he would not receive the title until adulthood, Strange was predestined to become the next Sorcerer Supreme, having been chosen as a child to receive the honor by a master sorcerer known as The Ancient One**, mystic protector of the Earth-realm as the acting Sorcerer Supreme.
This was much to the chagrin of sorcerer-in-training
Karl Mordo**
, who "beset the child with demons from the age of eight through to adulthood, as he was jealous that a child would be better than him."
However, Strange received intervention in the form of Mordo's former master:
The Ancient One**
. The Ancient One protects Strange and erases the encounters from the boy's mind, although Mordo does still succeed in ensorceling Strange by slapping on some weird mystic restraints that remained in place through his youth.
("Mystic restraints" – meaning like "chains"?) Recap: a past/future nemesis tried to subvert the ascension of the Chosen One by 1) sending him freaky nightmare demon-dreams that would lead him astray and 2) putting him in a magical bind, literally.
Sidebar: There is a bandied-about theory stemming from Heresy that a few folks (myself included) subscribe to that speculates Bloodraven and the Three-Eyed Crow are actually two separate entities. This comic arc lends credence to that.
Strange remains unaware of these magical bonds through his youth, and goes on to become a successful neurosurgeon…until,
PLOT TWIST
!
"Around 1963, Strange was involved in a debilitating car accident. Though surgeons were able to save Strange, the nerves in his hands were severely damaged" thus abruptly ending his career and dreams of livelihood.
Uh-oh, guy survives a terrible accident but is left with a life-changing, future-altering physical injury…where have we heard that before. Now what?
Hearing rumors of the Ancient One's existence, Strange sells his possessions and leaves his home behind to travel to the East in search of the Ancient One's palace. He finds him in Tibet, but the aged sorcerer refused to cure him, instead offering to tutor him in mysticism. Strange refuses and tries to leave, but is trapped due to a sudden blizzard. During the storm, skeletons mystically summoned by former pupil Baron Mordo attack the Ancient One, and the Ancient One easily defeats them.
After trekking to a reclusive mystic in hopes that he'll be healed, our hero instead encounters reanimated undead in the snow at the hideout of said mystic, sent there by an enemy yet unknown to the sorcerer-to-be, the same dude that sent him creepy dreams as a kid. ORLY.
Strange is impressed by the abilities of the Ancient One and now also concerned about Mordo's levels of power. The Ancient One explains that he has known of Mordo's treachery for some time but keeps him close for monitoring. Realizing that countermagic will be the only sure way to defeat Mordo, Strange accepts the Ancient One's offer of tutelage. Pleased by Strange's acceptance for unselfish reasons, he removes Strange's mystical restraints.
So the supreme mystic dude, like, broke Strange's chains so he could fly…interesting….
The Ancient One had known of Strange and his potential to serve as the Sorcerer Supreme prior to even Strange's first encounter with him, regarding his latent prowess so highly that he rejected Daimon Hellstrom** in favor of Strange as his pupil and future successor. Strange spent 7 years under the Ancient One's tutelage, learning to tap the innate mystic powers of himself and the world around him, as well as how to invoke the powers of the Principalities, powerful beings such as
Dormammu**
and the
Vishanti**
, who resided in their own mystic realms.
Oh, so the supreme mystic guy rejected other candidates over the course of time because he was waiting on the Chosen One, and then trained the Chosen One on ways to jack into the matrix. Got it.
Ed. - I'll interject here for a moment to say that it's no great stretch of the imagination to say that Bran Stark is going to be the ASOIAF Dr. Strange. However, what may not be so obvious right now after this initial intro section is that Jon Snow will also pick up part of the Strange arc as well. The rationale behind this assumption will be more apparent at the end of Part I, but do keep it in mind as you go through the first half of Great Arc.
Let's get some backstory on all those names I just threw at you (exception being Daimon Hellstrom, who I will discuss in the Modern Arc).
Baron Karl Mordo (Strange Tales 111 1963):
Apprentice sorcerer, master of black magic, nemesis of Dr. Strange.
Karl Mordo was the son of a Transylvanian nobleman who defaulted rule of his kingdom and was demoted to "Baron" when his lands fell under the control of the Austro-Hungarian Empire before the World War I. Embittered by the defeat and the imposition of the ways of the Empire onto his people, Mordo's father dreamed of regaining sovereign rule of his former lands and restoring his kingdom to glory (via black magic).
Mordo began his tutelage under the Ancient One as an adult; residing in the Ancient One's lair during his apprenticeship granted Mordo reduced aging. The Ancient One realized that Mordo's lust for power made him dangerous but chose to tutor him anyway feeling that he could at least keep a watchful eye on him. Mordo was immediately resentful of Stephen Strange when he learned that Strange would become the Ancient One's successor. A few years after Strange began his training, Mordo disappeared in anger and returned to his homeland in hopes of furthering his abilities via other means. Upon return to Transylvania, Mordo assumed control of his home village, sacrificing many residents in his quest for greater power.
Mordo has many powers, derived from three major sources: personal powers of the mind/soul/body, the manipulation of the universe's energies, and through use of "entities or objects of power existing in tangential mystical dimensions." Skilled in astral projection, hypnotism, necromancy, mesmerism. "He was more than willing to use powerful black magic and invoke demons, both of which Strange was reluctant or unable to do, although both acts would sometimes backfire on Mordo."
So the guy was bounced as the Chosen One, became bitter and vengeful, and turned to dark magic in hopes of gaining power. He summons demons and uses magic objects as part of his repertoire. And he can astral-project and bend minds to his will. Even though he's creepy and powerful, he's still a human magician….although he doesn't seem to age. He disappeared on walkabout for a while, only to return one day out of nowhere and take over rule of his hometown. Do we know anyone like that?
Ed. - It should be noted that over Baron Mordo's long and extensive Marvel run, he has teamed up/been affiliated with numerous bad guys both in-world and out (some of whom we're getting to) in various attempts to defeat Dr. Strange.
Curious as to what he looks like? A few images from various eras: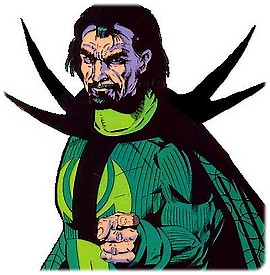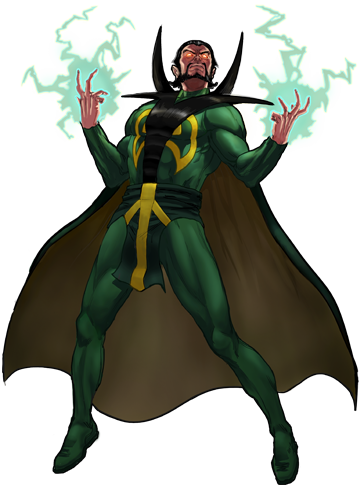 HA! Did I get you with that last one? (Just to be clear, that's
not
Baron Mordo. It's his ASOIAF brother from another mother.)
This is Mordo with one of those bad guys I mentioned. Anything strike you as familiar about that guy? As our dear Gurm likes to say, "Keep reading."
Here's a nice image of Strange v. Mordo, with Strange's boss looking on. Check out the swords. And the background. Oh my.
Next up for discussion is:

The Ancient One (Strange Tales 110 1963):
Acting Sorcerer Supreme, predecessor to Dr. Strange.
Began his training in magic as a youth, he was forced to defeat his own mentor, afterwards seeking out a nameless order of sorcerers known as the Ancient Ones "in order to devote his entire life to their goal of combating evil sorcerers. " The youth eventually became even more skilled than his colleagues, achieving such great power that he was the first Earth mortal to meet with Eternity, the sentient embodiment of the universe, who gifted him with the Amulet of Agamotto and declared him the Earth dimension's first Sorcerer Supreme.
Pics just because - not a ton of commonality looks-wise with the other Ancient One of Westeros that's hiding out in his wintry tree cave, but at least you'll have a mental image.
The Ancient One remained in this capacity for countless years, outliving almost all other members of his order - The Ancient One himself had attained near-immortality over 600 years earlier. He finally settled himself in Tibet where he met
Doctor Anthony Druid**
. Posing as the High Lama, the Ancient One tested his abilities to pass on his abilities to a successor by granting some powers to Dr. Druid.
**Dr. Druid (Amazing Adventures 1 1961):
"A former psychiatrist, Anthony Ludgate sought to learn the ancient powers of his ancestral Druids. Knowing that the Druids kept no written records, he became interested in the Tibetan monks after hearing they had an oral tradition. Thinking that perhaps the secrets had been passed on, or that he could recreate them by learning the methods used by the monks, he sought out a lama who in actuality was the Ancient One." He is a normal human man although well-trained in magic. Powers include voice manipulation, energy projection, ability to sense magic, body control "such as tightening his muscles to better resist bullets", telepathy, and nature control/manipulation of plants, animals, and the elements. Also a skilled martial artist and proficient in staff combat.
I.e., the Beta for Dr. Strange is a dude who sought the knowledge of the ancient Druids, so found a group of reclusive monks that he thought might be able to teach him the ways of the old magics and ended up being schooled by the Big Kahuna himself. He is a manipulator of nature and is 'pretty good with a bo staff'. (Props to anyone who gets that ref.) Herp, derp, who could this be? Can we include "+5 Amphibian Trajectory" to his list of skills? (Poster
Kingmonkey
has a nice "frog to the face at TOJ" hypothesis if you are unfamiliar.)
Not the most imposing guy...go figure.
Fun fact: Despite being exceptionally skilled in Earth magic and the ability to tap into the mystical energies of nature, natural objects, and the environment, he does have a natural weakness: "Druid's Druidic powers
have a special vulnerability to iron
,
as did that of his ancestors
. Iron tends to act as a "lightning rod" for the magical forces he employs, sometimes disrupting its effects."
I will briefly return to Druid in the Modern arc, because through him we get some links to a really bitchin' side story.