Post by Some Pig No Doubt on Feb 14, 2016 16:58:59 GMT
The purpose of this thread is to bring in other Marvel personas that interact with/influence the arc of Dr. Strange (Bran, Jon, etc) laid out in the main Great Arc thread. The similarities between the connections & interactions in the comics vs the ASOAIF series are pretty shocking.
I'll begin with Daimon Hellstrom, also known as Hellstorm, who was mentioned briefly in the main thread.
Daimon Hellstrom (Ghost Rider 1 1973): Son of Satan:
The Chaos King, King of Hell, Prince of Lies. Son of Satan and a human mother. Has a younger sister; sister was caught by their mother in a ritual sacrifice with their father, Satan – as a result, his mother went mad and was institutionalized, his father was banished back to Hell, and
the children were separated and sent to live in different orphanages
.
This is going to be important, so stay tuned.
Daimon later returns to the place of his birth and learns the truth of his parentage via a diary describing her life with Satan. "Hellstrom's father beseeched his son to disregard his mother's diary's warnings and serve him in Hell. However, when Satan transported Hellstrom back to Earth, Hellstrom decided to dedicate himself to fighting his father's evil. He declared himself the Son of Satan, and for the next several years battled many manifestations of demonic evil on Earth as well as other realms. During this period, the Son of Satan
maintained his civilian identity
. After eventually slaying his father, Hellstrom was given the 'Black Halo' and lordship of Hell.
He claimed these titles to maintain the balance between Heaven and Hell
, so neither could take control of the workings of the Universe and humanity could control their own destiny."
He serves the realm, you see. And receiving the 'Black Halo' - is that like being given Black...Fire?
Powers:
many
, the full details and extent of which may yet to be revealed. Potentially, he can perform virtually any magical feat. ("Do you take me for a wizard?" The other chuckled. "No less."..."You are more than a juggler, old friend. You are a true sorcerer.") As Hellstorm, Daimon Hellstrom could sense the presence of the supernatural and
could cast spells to transport himself and others into mystical dimensions and back to Earth again
.
He can alter his garments and appearance at will
, taking on a more demonic appearance, in some cases including hooves, fangs, and wings. He is strongest when harnessing his Darksoul, the demonic counterpart to his human soul -
had it not been stolen from him by another lesser magician
. Absent his Darksoul, he is most powerful when he wields a
trident "made of netharanium, a "psychosensitive" metal found only in Satan's extradimensional realm
." He has a pentagram birthmark his chest that proves his birthright.
All right, so I don't know about any birthmarks other than ones said to be shaped like Dorne (

), but I DO know that we have a prominent character in the series, one masquerading as a normal guy, that 1) is a skilled mummer, 2) can himself disappear and reappear out of nowhere, and is quite skilled at moving other people around in secret as well, 3) has a vast pool of knowledge with sources flowing in from all kinds of faraway places that by rights he shouldn't have access to, and 4) has certainly had 'the best part of him' stolen from him by another practitioner of magic.
I also find it interesting that this same person has a very vested interest in a certain king's bastard, who just so happens to be apprenticed with the one guy in the realm who knows how to work a special magical metal. Wowsers, it's
almost
like this certain king's bastard was deliberately hooked up with this smith
specifically to learn the tricks of that trade
. Odd.
Also, if you're a fan of any "Varys is a Blackfyre/Brightflame" theories, the Hellstorm arc ties in neatly with that concept - not Varys being the son of Satan per se, but certainly a descendant of some exiled Targaryen. Life as an orphan, discovering his surprise family history and maybe working to its odds.....and then there's the whole Daimon/Daemon thing, hur.
In terms of physical appearance, I don't think Hellstorm could possibly be in greater contradiction to his ASOIAF counterpart, so don't get excited about that aspect. Nice trident though.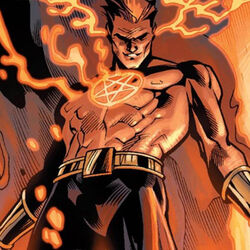 Before I move on to the next person, I should say that in the end, we have Hellstorm killing a now-evil Dr. Druid in order to retain balance and harmony between the realms. Wait, whaaa?

You may recall that in the earlier essay, I briefly touched on the character "Dr. Druid" -
**Dr. Druid (Amazing Adventures 1 1961) **Dr. Druid (Amazing Adventures 1 1961)
"A former psychiatrist, Anthony Ludgate sought to learn the ancient powers of his ancestral Druids. Knowing that the Druids kept no written records, he became interested in the Tibetan monks after hearing they had an oral tradition. Thinking that perhaps the secrets had been passed on, or that he could recreate them by learning the methods used by the monks, he sought out a lama who in actuality was the Ancient One." He is a normal human man although well-trained in magic. Powers include voice manipulation, energy projection, ability to sense magic, body control "such as tightening his muscles to better resist bullets", telepathy, and nature control/manipulation of plants, animals, and the elements. Also a skilled martial artist and proficient in staff combat.
Basically he was the precursor to Dr. Strange, something of a "test apprentice" to the Ancient One (eg Bloodraven). From the description above, it's pretty clear that Druid's ASOIAF contemporary is Howland Reed.
In the books, Howland took his walkabout to the Isle of Faces and hung out with the Green Men, doing/learning who knows what. He goes on to partner with Team Stark and becomes Ned's most loyal bannerman before finally going all JD Salinger out in the Neck.
Why is this relevant to Dr. Druid? Well, Druid was a friend to the Avengers/Defenders (I'll get to this eventually in Modern Arc, but suffice to say these are the "good guys" of Marvel) for many years. Although Druid fought with their teams from time to time, eventually he voluntarily retired from the team roster and retreated into solitude - partly due to the slow-build of the corrupting influence but also because there were too many enemies who wanted to use him/tap into his powers for their own nefarious purposes. Self-fulfilling prophecies and all that, eventually, after having his mind overtaken by a couple of demonic entities while fighting alongside his superhero pals, he indeed becomes corrupted. Basically his "dark side" takes over, and he becomes a power-lustful madman who begins using his abilities and Druidic knowledge for evil.
Druid recited forbidden Druidic rituals that been in his mind since he first met the Ancient One. With his powers increased, he sought to bring about destruction and rebirth as the last Druid.

The Last Druid? Like a Last Greenseer?
Ironically, the guy who was initially recruited to take over the role of Sorcerer Supreme - the top practitioner of WHITE magic - turns evil. Dark Druid finally becomes such a threat "to the realm" that he is slain by the character Hellstorm.
I hold absolutely no shame in saying that I would melt with happiness should there be a book showdown between Varys and Howland Reed. After all the buildup and fanspec about Howlin' Howland being such a great dude and champion of all that is right and good, I think it would be a fantastic GRRM-y twist to have that not be the case at all. We shall see.